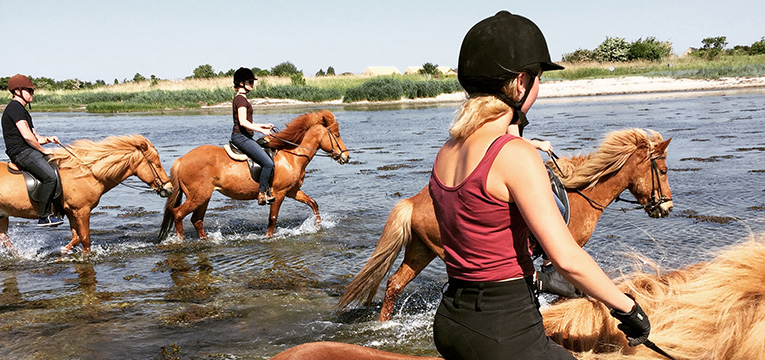 Beautiful tours in open landscapes, the woods and the beach
Ride in a small group of max. 6 people who have all signed up at the same level as you. That way, you get most out of the trip and can enjoy the horse and nature to the fullest.
✅ Experienced guide included
1 hour: 59 EUR/pers.
2 hour: 80 EUR/pers.
The trips depends on the weather, the duration and your wishes:
• Forest & open landscapes: Amager Fælled
• Forest: Kongelundsskoven
• Open landscapes & beautiful water: Søvang
• Forest and beautiful beach: Kongelundsstranden
Practical info
Be there at least 30 min before departure.
You are welcome to help us groom and saddle up the horses.
We have helmets for everybody.
Wear clothes & shoes suitable for the weather.
We basically ride in all kinds of weather.
Children are very welcome. On 2-hour trips, however, they must be over 10 years old.
More details
Our goal is to provide a wonderful experience in nature and that our travel companions enjoy our friendly Icelandic horses.
If you wish, you can help to groom and saddle up. This is a great way for you to get to know the horse better. We try to make sure the group consists of people with similar riding abilities. It's not a requirement that you are able to ride or have experience with horses however. The most important thing is that you want to get out into nature in a different way and experience a new part of Copenhagen.
If you're a small group who have a particular wish regarding where the trip takes place and the length, just let me know and we can discuss the possibilities. We ride in all weather, so remember to wear appropriate clothing. The tour may be cancelled if the weather is too bad.